"Dont repeat chapters; the story will never change."
Hey ya'll... hope everyone is doin' well! Have a couple of things today.. 1st, courtesy of
Melu
and her instructions, I created myself a little button,... I dont expect many people to grab it as I don't have that many followers, but I thought it was a pretty nifty idea! 2nd, I've been blessed with some awards, which I will be blogging about ASAP, thank you ladies for recognizing me... :) and 3rd... My brother left to go back home, so my blogging should get back to a fairly regular schedule! Today I have for youuuu... Lemon Fizz from China Glaze, Fairy dust from China Glaze, and Ebony Hates Chris from Wet n Wild!
The result! You can BARELY see the fairy dust, but its there! Since I do not currently have dotting tools, I was going to use a toothpick to make dots... well.. that didn't really go over well, as you can see,... so instead of getting discouraged and immediately taking this off, I decided to name it,... inkblot! Yes yes I know... so original,... I actually wore this for 3 days, lol. Thats like a record for me now!
This was
-1 coat of beauty secrets base coat
-3 coats of lemon fizz
-1 coat of fairy dust on all nails except accent
-1 inkblot of ebony hates chris on accent finger
-1 coat of poshe
With flash... I actually LOVE this yellow very very much... and I swore to myself I'd always hate yellow!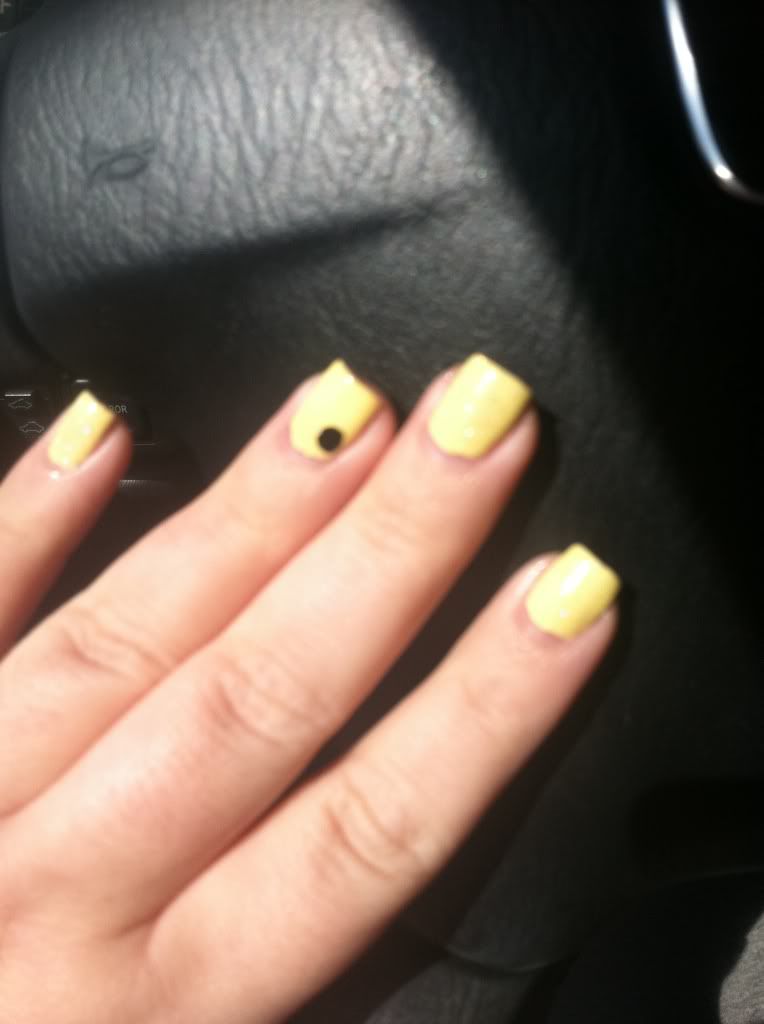 natural light in the car.
perfect shot of the ink blot, haha.
I feel a little proud of myself, because I've noticed with each post, my application of polish is getting way better,... I legit used to have polish all over my fingers when I first started this,.. because I really wasn't used to painting my nails... this weekend is the longest I've gone without having SOMETHING on my nails in almost 3 months.... thats CRAZY to me!
Happy Monday everybody! How was your weekend?