Oh my gosh you guys.. I am absolutely blown away by the response to my giveaway, I totally didn't expect 14 responses! I expected maybe 2 or 3, but I wish I had 14 bottles! I am also blown away by the fact that many of you, if not all, chose to follow me... that humbles me. I am in the process of going back and following each of you that chose to follow me.. I'm definitely not one of those bloggers that has to have hundreds and hundreds of followers, that's why I did not make following me a requirement to win something. I really and truly wanted to so something nice for ladies that may be lemming what I was for the longest time. So,
thank YOU
! I will keep trying to stalk my local Walgreen's stores, and if I happen upon some Cinderella... who knows, maybe I'll random.org more numbers ;)
Secondly, the winners have been chosen and contacted! This was my first giveaway ever, so I definitely probably don't have all the kinks worked out, but I think it worked out pretty well... There were 14 replies to the giveaway, so I just went to random.org and chose 2 winners! The winners were based on which comment they were... :) I figure that was the easiest way for all of us.
The first winner is..... Jeni!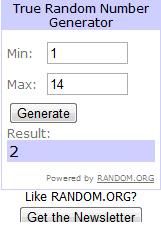 The second winner was.... Heather at Mouthful of Sunshine!!
The formalitys: Both winners have been contacted and have 48 hours to respond before another winner is chosen!
I will continue to keep my eyes peeled for more bottles of Cinderella... I'll keep you updated ;)