"We lose more women to marriage than war, famine, and disease."
-Cruella DeVille (101 Dalmations, 1996)
So this weekend, I actually went through and counted and inventoried all of my untrieds. I have over 180. ONE HUNDRED AND EIGHTY untrieds... polishes that have never touched my nails. My goal is to make as big of a dent in these as possible before buying any new polishes... but to my defense, there will be some polishes that I just can't live without, lol. But I've gotten SOOOO good about resisting! Today I am going to start my Disney Villains series! Back in March I received 8 Disney Villains polishes from
Nicole Tan
. I absolutely love them all.. and considering how big of a Disney buff I am.. I had to have them as soon as she offered up to get them. They've been sitting in my untrieds bin since the day I got them!
PS I got my iPhone lens fixed today.. for 31 bucks! I AM SO HAPPY.. I can finally feel good about taking pics for my blog again, ha ha ha.. look at these pictures then look back at some of my posts.. you'll see how obvious the haze was.. it was getting supremely annoying.
I'm starting with magentaish/pink Cruella DeVille! Its also labelled number 38 if that will help anyone!
The evolution of this mani will follow below.... :)
This polish is actually a VERY sheer jelly. This is 2 thicker coats. I knew it wouldn't be worth it really to do a 3rd.. so what does one do when a polish is sheer like this?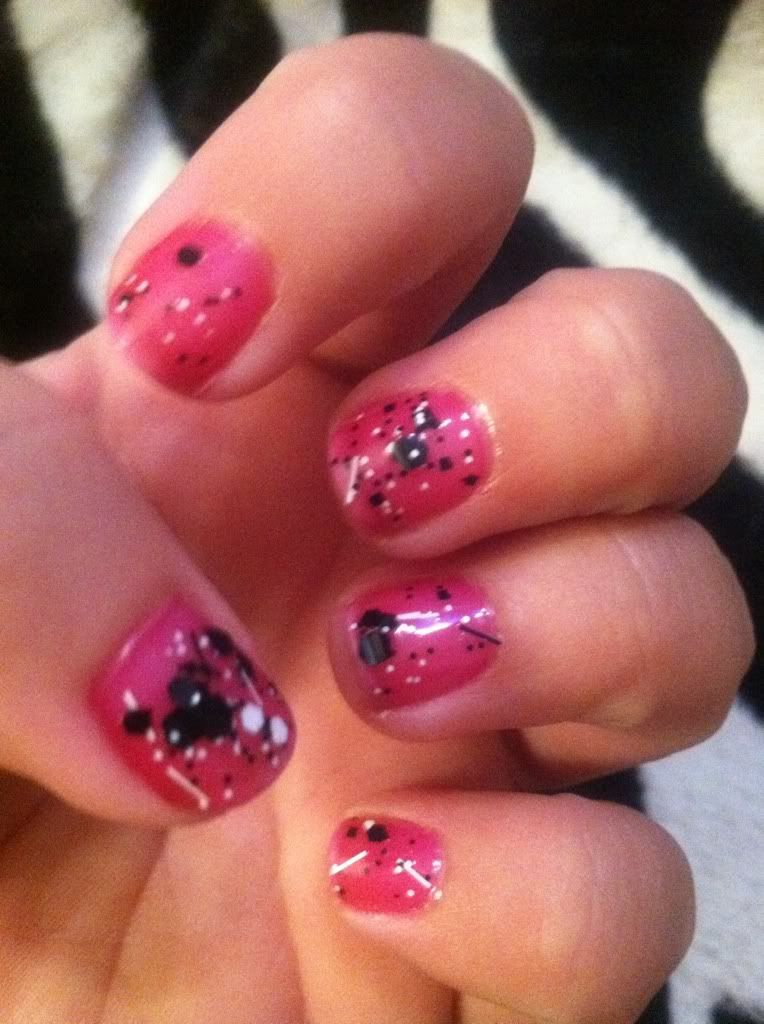 You add GLITTER! This is one coat of Coverband's Sticks & Stones.. what an amazing glitter!
So lovely.. but as much as I loved this... I wanted to take it up a notch...
So I made a glitter sammich... this is not like the traditional glitter sammich's I see.. but I love how this turned out. All I did was one final coat of Cruella over the Sticks and Stones.. It gives the white glitter an awesome pink tint.. even though its kind of hard to tell.. Click on the picture to enlarge and see it :)
I'm actually rather in love with this mani.
Just a creative shot!
What do you guys think?! Do you have any of the Villains polishes?